In the 5th grade of my Hindi class, I learned this:
जिन खोजा तिन पाइया, गहरे पानी पैठ

जौ बौरां डूबन डरा, रहा किनारे बैठ
It's a popular saying recited by many and written originally by the famous Indian poet, Kabir. My own translation reads:
Unless you jump, the oysters are found deep.

Continue to wait on the sidelines, busy counting sheep.
Entrepreneurship is risk free, as Sameer wrote in a popular post a while ago. No point waiting for the right idea or the right time, or the right set of market conditions. The ideal time is for analysts to conjure the future which already exists in an entrepreneur's eyes.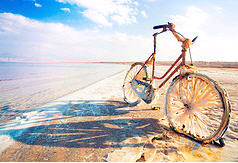 Unless you write a manuscript and revise it multiple times and get rejected by at least 5 publishers–how can you write one of India's best-selling book? Unless 20 VCs label your ideas as stupid, how can the 21st get it funded?
Unless you take the plunge, you would never know, what you are doing is right. Planning is required–Accumulating a small buffer to support your personal life is a good idea. But, being a wannabe entrepreneur forever kills your self-esteem slowly.
A lot of entrepreneurs wait for the right team, right set of market conditions and getting validated by the investors before starting them. If you are an ecommerce upstart in India, would you start right now and run a few experiments or wait until the big guys have already muscled into the market.
Team is you, when you start; people follow you when you have jumped. Unless you put your everything into chopping block, no body else would. Product is what you create the demand for, idea is the seed, consumers often do not know what they want. Of course, market conditions are never right. If it were right, you'll have to worry about competition rather than creating products.
Unless you fail in your first venture, how would you do the second one which may turn out be OK and then the third one which may turn out be a success. You don't have to give it much of a thought if this is your 1st venture. You learn from the mistakes and plan better in the next one. For this one, you just have one option–Jump and try collecting the oysters, at least you'll find fish.
The pic is of a bicycle rusting on a sea shore.