In the last 12 months after moving back from the Bay Area — I got cheated several times, small firms, doctors, big companies, public sector enterprises. Services not delivered, money not refunded, products not living upto warranties, the list is endless.
I followed up with some, called up some, emailed up some. A failed piece of furniture from Home Town (a unit of Kishore Biyani's Future Group) gets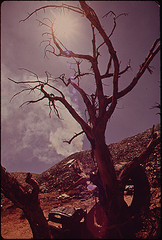 fixed after 15 phone calls only to be broken again. A non-delivery of 1Mbps Internet connection from Tata Indicom leads to only 75% of the subscription amount after several phone calls and 8 months of delays. God knows how much the cellular operators are cheating in billing for short minutes and dropped calls. Every month I get charged for roaming even when I haven't left the home cellular network. The biggest grief is against some of the large public sector companies operating as corporations who do not even have a 'tangible' customer service line. The so called mega retail stores have the shoddiest of services without any accountability from the local Food & Drug or health departments/administration.
Where does the hapless customer go? As usual, there is no recourse except knock the local forums and show frustration at the process. The government of India has left it's consumers to figure everything out on their own. It burns at least an effort of at least 100 man hours to get things resolved at the local consumer forum. If the amount is few hundred rupees, it is too much a chase.
There is corruption on one side where the government does not provide the service for which the officials are paid for and then there are systemic issues in corporations who dupe the customers.
At the minimum, the government should allow class action lawsuits and give an opportunity to service-deprived individuals to take action against companies and get compensated. The judiciary already has public interest litigation against the inaction of government. Now is the time to litigate against large corporations who do the business on their own terms.
I'm not alone when I get frustrated on inactions from the companies. If you troll through the forums, there are plenty with similar problems — They are fighting for the cause individually, to get their own money back. This needs to be fixed at a much bigger level.
The thumbnail is pic of a tree taken in 1972, wilting due to water and air pollution in Utah.