This post is about young ventures which are less than 18 months old and maybe applicable to others as well.
I'm on my way back from the jungles of Tamilnadu, where I was off-grid for the best part of the week. Trekking, bathing, detoxing, imbibing nature, completing half-read books, reflecting on the last 24-month jaunt in India and pondering about the future. Today marks Dussera, a Hindu festival, where as per mythology, Lord Rama's exile culminates with the killing of demon king Raavan.
Continuing the tradition, large effigies of Raavan is burnt along with his two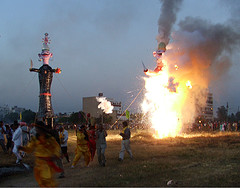 other cohorts viz. Kumbhakarna and Indrajeet, to celebrate the victory of  good over evil.
A startup's journey is crowded with demons, internal and external, who are ready with their poison arrows. One wrong stance leads to a certain gnawing death. An entrepreneur in business, who has started up, faces several such demons. Based on my experience working with The Morpheus portfolio companies, coming out victorious is just another milestone:
Feature overload Solve a small problem first, get the version 1.0 of the product out. Iterate quickly with feedback, instead of building features for every customer under the sun. Think what you can build as a minimum viable product, keeping a target customer in mind. Feature overload can easily be tackled by (a) Smart prioritization (b) getting feedback from potential customers, and (c) simply trusting your instincts.
Monetary shenanigans Startups are not about starvation, but it's about being efficient with money. Kill your money demons. Some to be killed while starting up and some on the way (a) Save enough for the journey before taking the plunge (b) Ask family/friends for help (c) If you have a few customers using your product, then talk to a few individual angels (d) Get an incubator to support you. Talk to us at The Morpheus
People & Teaming Issues One of the major pain point a young venture faces is around people. Issue around people is the biggest demon. You may not have a team, recruiting the right people is a demon. If you have a team then making sure that they are motivated and ready to deliver is another. And then god forbid, issues between founders is yet another. A lot of young startups go on the wayside due to strained relationship between the founders or the founding team than anything else. There are a lot of ways of dealing with people/team related issues including (a) Right motivation for everybody in the journey (b) Keeping a clear line of communication and communicating more often than not (c) Not making assumptions about each other (d) Mutual respect for each other (e) Letting it go
These demons are multi-headed and get reborn. Killing them once is not enough. They come back in different life forms; like the mighty Raavan, who had consumed the nectar of immortality; only to be killed later with a strategic arrow.
A very happy Dussera to all and may you kill all the demons lurking in your venture!
Picture courtesy Jigisha.
Tags: vijayadashmi